Public Detroit Person Business Bank Manufacturer Railroad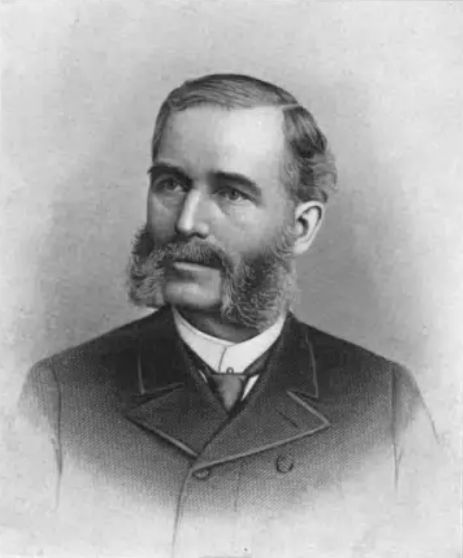 D. M. Ferry,
portrait from Frederic Stewart Isham, comp., History of the Detroit Light Guard: Its Records and Achievements (Detroit: Detroit Light Guard, 1896), p. 102.
Dexter Mason Ferry was born August 8, 1833, in Loweville, New York. He moved to Detroit in November 1852 (age 19) and was employed at S. D. Elwood & Co (booksellers), rising as the store's bookkeeper. In 1856, Ferry became involved in retail seeds through a partnership with Miles T. Gardner who had already established himself in Detroit as a sales agent for Bloss & Adams's "American Seed Store." Here, sources diverge. WP, because of its reliance on the corporate history from the Ferry-Morse Seed Company, identify Ferry's partner as "Milo T. Gardner." George B. Catlin, however, identified the partner as Miles Tele Gardner. Indeed, a search of all Michigan County Histories does not find any person named "Milo T. Gardner" (see this search). It seems the company does not know its own history.
Sources seem to be in agreement that in 1856, Gardner (wishing to "" as Catlin explained) formed a partnership with Ferry and Eber F. Church? as M. T. Gardner & Co.?, seedsmen. What is not explained is how Ferry, Church, and Gardner became trusted acquaintances or even why Ferry, who up until this time had only practiced clerking in a bookshop, wanted to get involved in the retail seed trade. (Ferry, of course, had been raised on a farm, but that doesn't make him exceptional in mid-nineteenth America.) After this formation, Gardner seems to have moved his storefront to Woodward Avenue. There seems to be confusion about what the new company was called. Ferry-Morse called the new company Gardner, Ferry & Church?. Neither Moore nor Catlin use that name. Moore notes that after the 1865 reformation, the Company was called "Ferry, Church & Company"; Catlin mentions no firm other than the M.T. Gardner and D.M. Ferry companies.
Catlin's chronology seems the most reliable here. He explains that by 1865, Gardner's health was deteriorating. This became the impetus therefore, for a general reformation of the partnership. In 1865, Gardner sold out his portion to Ferry (and maybe Church, but all the sources are unclear about Church's continued participation) and the Company was re-organized as the "Ferry, Church Company." After the death of Gardner in 1867, Ferry completed the transformation of company to the D. M. Ferry & Company, a change in name that probably reflects the removal of Church from the partnership. Ferry incorporated under that name in 1879.
Ferry's innovation in business occurred in the retail marketing of garden seeds. He marketed seeds in brightly colored envelopes arranged in boxed store displays that retailers could easily set up or move around. Prior to this innovation, only the Shakers had distributed seeds in packaged envelopes, but then only among themselves and never for sale. Ferry also began customizing store displays to the growing conditions around the retail location. These innovations quickly caught on, and by the 1890s Ferry had created a new industry.
Business Activities
Aside from the D. M. Ferry & Co., Ferry was very active in Detroit-area business and associated with the James A. McMillan syndicate of businesses. He held, at one time or another, the following business positions (dates in parentheses indicate source of information): Presidencies: First National Bank of Detroit (1896), Union Trust? (1896), American Harrow? (1896), American Blower? (1896), National Pin (Ferry founded in 1875 and was still president in 1896), American Life & Accident Insurance Company? (1896); Vice Presidencies: Michigan Fire and Marine Insurance Company? (1899); and Directorships: Wayne County Savings Bank (1878, 1896), Detroit Copper and Brass Rolling Mills? (1896), Fort Wayne & Belle Isle Railway? (1896), Safe Deposit Company? (1878), American District Telegraph? (1878).
Charitable Service
Because of his advance in the business world of Detroit, Ferry offered his service in many charitable activities. These included becoming an initial subscriber in 1883 of 1000 shares for the Art Loan Exhibition, a subscriber of 1000 shares for a permanent art museum, and initial trustee for Detroit Museum of Art, 1885 (1896); being a trustee of the Detroit Light Guard? (1896), of Harper Hospital? (1890, 1896), and of Grace Hospital (1890).
Politics
Ferry does not appear to have gotten involved in politics until the 1870s, and indeed seems to not have liked public service all that much. Isham reported that "Ferry ... has never sought fame in political life [but that] his fellow citizens of the party in Michigan have determined, however, to bring him into the political arena." In the mid 1870s, he served on the Detroit Board of Estimates, 1877 & 1878 for the sixth ward (1878). Six years later he served as Detroit Park Commissioner, 1884-1886.
His highest political office came in 1896 when he was unanimously elected to chair of State Republican Central Committee. Isham noted that "His well known aggressiveness, energy and perseverance, together with his tack, good judgment and all-around adaptability to the position, are a guaranty to the party of victory and success."
At some point, probably in the 1890s, Ferry became allied with William Austin Moore in a temperance campaign that ended badly. Both had begun advocating the prohibition of beer on Belle Isle. This led to a public outrage that forced both Ferry and Moore from public life for the remainder of their days.
Personal Life
Ferry was raised Baptist, but while in Detroit he was a member of the Woodward Avenue Congregational Church?. F. A. Barnard noted that Ferry was "strongly opposed to extreme sectarianism."
Ferry married Adie E. Miller of Unadilla, N.Y., in October 1867, and they had three children: Dexter M. Ferry Jr.?; Blanche Ferry; Queen Ferry.
Ferry and his family had homes at 31 Winder Street in a house built in 1869 and on Woodward Avenue.
He died in 1907 from unknown causes.
Notes
Bibliography
Isham, Frederic Stewart, comp. History of the Detroit Light Guard: Its Records and Achievements. Detroit: Detroit Light Guard, 1896.
Carlisle, Frederick. Chronography of Notable Events in the History of the Northwest Territory and Wayne County. Detroit: Wayne County Historical and Pioneer Society, 1890.
Available at: Internet Archive • Hathi Trust.
Tuttle, Charles Richard. General History of the State of Michigan. Detroit: R.D.S. Tyler & co., 1873.
Barnard, F. A. American Biographical History of Eminent and Self-Made Men: Michigan Volume. Cincinnati: Western Biographical Publishing Company, 1878.
Farmer, Silas. History of Detroit and Wayne County and Early Michigan: A Chronological Cyclopedia of the Past and Present. 3rd ed. rev. and enl. Detroit: S. Farmer & co. for Muncell & co., New York, 1890.
External Links
Wikipedia: The pages on Dexter M. Ferry, D. M. Ferry & Co., and Dexter M. Ferry, Jr. are all substantially written by Andrew Jameson.
Ferry Morse Seed Company: http://www.ferry-morse.com/
Citation: When referencing this page please use the following citation:
R. D. Jones, "Dexter M. Ferry," Michigan Transportation History (Ypsilanti, MI: 2020), www.michtranshist.info/.
Unless otherwise noted all content on the Michigan Transportation History site is Copyright © 2020.
Page last modified on January 01, 2020, at 08:42 PM EST