Michigan Central Railroad
Station, Ypsilanti.
(Ypsilanti Historical Society Photo)
This is a research site on Michigan's transportation history that has evolved from my specialty research conducted on Michigan transportation improvements (especially its railroads) and business history.
Internal improvement of the lines of communication through the Great Lakes region brought about significant and fast-paced change. As one who witnessed these changes in his lifetime, Governor Austin Blair remarked, "It is but a little while, since we were strangers to those who lived fifty miles south of us, and we hail with delight the opportunity the railroads have afforded of taking counsel together." These changes in transportation caused changes in state politics and business practices. Thus it is difficult to study transportation history in isolation from the men and women who, through their social interactions, wove the network of political, financial, and commercial power just as they wove the lines of communication. For this reason, Michigan Transportation History presents discrete articles on people and their business enterprises hoping to illuminate the business and social relationships between them. Other articles dealing with Great Lakes history are here as well.
Current content includes:
Also here are research topics related to the history of the Great Lakes and of Michigan generally and not specifically to industrial or transportation history.
Notes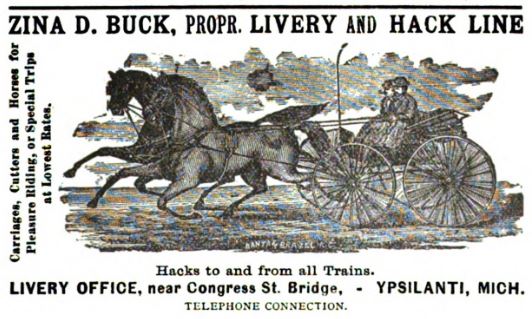 Advertisement for Zina D. Buck Livery and Hack Line, Polk's Ann Arbor, Ypsilanti and Washtenaw County Directory (Detroit: R.L. Polk & Co., 1889), p. 237.
Page last modified on August 11, 2021, at 05:48 PM EST