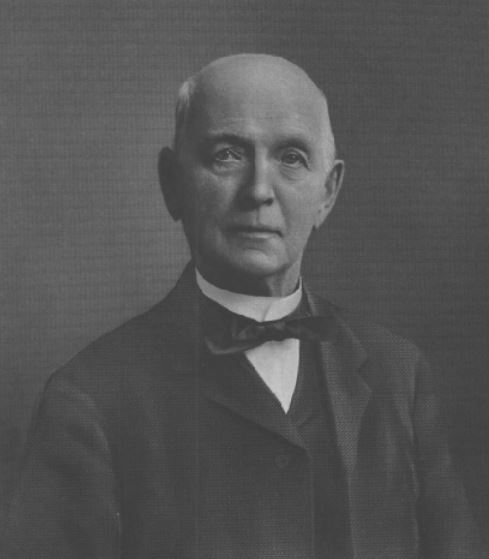 Portrait of Daniel Lace Quirk from
Samuel W. Beakes
,
Past and Present in Washtenaw County, Michigan
(Chicago: S. J. Clark, 1906),
52
.
Daniel Lace Quirk (June 15, 1818-December 5, 1911), was an Ypsilanti banker and industrialist. Quirk was a central capitalist and entrepreneur of Ypsilanti during the later half of the 19th century. Samuel Beakes described him as "one of the leading promoters of the varied and important enterprises, industrial, commercial, and financial, which have resulted in the present growth and prosperity of the city." And while Quirk may have made Ypsilanti his home, he was so active in so many other places "that he can not be said to belong to any one community."
Early Life
Daniel L. Quirk was born, June 15, 1818, in either Ballachrink, or in the parish of Kirk-Patrick near Glen Maye, both on the Isle of Man. His father was Hugh Quirk, who owned a landed estate on the Isle. His mother was Anna Lace. They had twelve children. In 1827, Hugh Quirk sold his estate and immigrated to the United States. The family established itself in Rochester, New York, where Hugh Quirk engaged himself as a contractor. Later they moved to Henrietta, New York, where Hugh Quirk farmed. Hugh Quirk died in 1861; Quirk's mother, Ann Lace, died in 1865.
Daniel Quirk's early education was as a carpenter's and joiner's apprentice. Sometime in the 1830s, Quirk accompanied his employer, Fitch Hill, to Ann Arbor for a job and after which he stayed. He worked as a contractor in the city of Ann Arbor and in Lodi Township. In 1843, Quirk married Nancy Scott of Lodi Township (see family below) and a year later became a naturalized U.S. citizen.
Politics
In 1847, Quirk began the first of his entrepreneurial ventures when he purchased the Belleville Mills, a saw-and-grist mill, blacksmith shop, cooperage, and general store in Belleville, Michigan. He moved his family there as well and soon after became active in politics. By the early 1850s, Quirk, began an acquaintance with David Stewart, who was probably then living in Detroit, and with James F. Joy.
Business Career
Around 1853, Quirk started his career in railroads when Joy had contracted him to construct portions of the Chicago, Burlington & Quincy Railroad?. This was probably a risky move on Joy's part as Quirk had not demonstrated to this point any ability in civil engineering or management of large-scale industrial projects. Quirk nonetheless took the opportunity, sold the Belleville Mills and moved immediately to Chicago. Joy, however, experienced many delays in moving the CB&Q project forward and finally released Quirk from his contract in 1855.
While waiting for the CB&Q, Quirk began trading in grain and livestock in Chicago, and began investing in other businesses. During these years, Quirk was acting principally as a grain commission agent for this area probably under the company name of D. L. Quirk & Co. In 1859, Quirk struck up a partnership with Asa Dow? as Dow, Quirk & Company?. In the spring of 1860, he returned to Ypsilanti "in order to offer his children better educational privileges."
Quirk, along with Benjamin Follett, Isaac N. Conklin?, Asa Dow?, and Cornelius Cornwell organized the First National Bank of Ypsilanti, on November 25, 1863. Quirk became president of this institution in January of 1885, and remained so until his death.
On April 3, 1867, Quirk and others started the Peninsular Paper Company. He was elected president of the firm on July 7, 1887.
Railroads
As mentioned, Quirk's first entré into railroads occurred as a contractor for James Joy?'s CB&Q during 1853-55. But as it seems the CB&Q did no construction during that period, Quirk was released from his contract. In 1869, Quirk was one of the principles involved in getting the Detroit, Hillsdale & Indiana Railroad (DH&I) started and once going was made a director and superintendent of the line. Also, given the fact that Michigan was allowing municipalities to bond themselves in order to invest in railroad construction, Quirk could build a railroad at virtually no cost to himself or the financial investors (see People v. Salem).
Quirk was also a construction contractor for the building of the Eel River Railroad? in 1871 from Alma to Logansport, Indiana. Also, Emory Wendell notes that Quirk was involved in the construction of the Wabash Railroad? between Detroit and Butler, Indiana.
Family
In 1843, Quirk married Nancy Scott of Lodi Township. Together they had one daughter, Nancy, who married Charles Ferrier. Nancy Scott died in 1850. In 1852, Quirk married Priscilla Frain daughter of Henry Frain. They had three children: Elizabeth who married Ira P. Younglove of Chicago; Jennie who married a man from the Cornwell family; and Daniel L. Quirk Jr.? who succeeded his father in many of his Ypsilanti concerns.
Daniel Quirk died on December 5, 1911, in Ypsilanti.
Notes
Sources
Beakes, Samuel W. Past and Present in Washtenaw County, Michigan. Chicago: S. J. Clark, 1906.
History of Washtenaw County. Chicago: Chas. C. Chapman & Co., 1881.
Disbrow, Dorothy A.? "Early History of the Banks of Ypsilanti." Ypsilanti Gleanings, October 1979.
Fuller, George N., ed. Michigan: A Centennial History of the State and Its People. 5 vols. Chicago: The Lewis publishing company, 1939.
Henschen, Henry S., comp. A History of the State Bank of Chicago from 1879 to 1904. Chicago: The Lakeside Press, 1905.
Quirk, Daniel L., Jr.? "The History of Paper Making in Washtenaw County." Ypsilanti Gleanings, August 1973, 1-18.
Wendell, Emory. Wendell's History of Banking & Banks & Bankers of Michigan. A concise history of banking operations from the earliest time to the present, with detailed accounts of Michigan banking history & law, & sketches of leading banks & bankers of the state as they are at the opening of the twentieth century ... 2 volumes. Detroit, Mich.: Winn & Hammond, 1902.
Citation: When referencing this page please use the following citation:
R. D. Jones, "Daniel L. Quirk," Michigan Transportation History (Ypsilanti, MI: 2020), www.michtranshist.info/.
Unless otherwise noted all content on the Michigan Transportation History site is Copyright © 2020.
Page last modified on February 15, 2020, at 06:31 PM EST