Public PersonDetroitChicagoBusiness Walter Loomis Newberry was a Detroit and Chicago merchant and philanthropist. He was brother of Oliver Newberry, Uncle of John S. Newberry, great uncle to Truman Newberry.
Newberry was born in East Windsor, Connecticut, on September 18, 1804, and died at sea on November 6, 1868.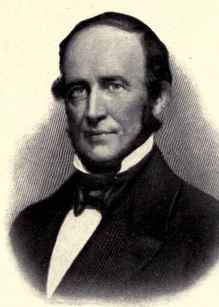 Portrait of Walter L. Newberry from The Merchants' Loan and Trust Company,
The Advancement of Chicago as a Financial Center up to the Close of the Nineteenth Century
(Chicago: by the company, 1901),
p. 71
.
As a young man, Newberry applied to the U.S. Military Academy but was rejected for physical reasons. He moved to Buffalo sometime prior to 1820 with his brother Oliver where the two of them entered business. Oliver Newberry left Buffalo in 1820 for Detroit, and Walter followed in 1828. In Detroit, the Newberry brothers entered into the dry-goods business and were quite successful.Merchant
Following a tour of observation around Michigan with Territorial Governor Lewis Cass and William B. Astor, Newberry began buying property abutting the Upper Great Lakes.Real Estate Much of this property was located in Chicago, to which Newberry relocated in 1833. In Chicago, Newberry partnered with George W. Dole? in the commission and forwarding business. He also entered into bankingBank, founding the Merchants' Loan and Trust Company. He invested in railroads becoming a director and president of the Galena and Chicago Union RailroadRailroad. He was also active on the school board, the Chicago Historical Society (which was founded in 1856), and founded the Young's Men's Library Association of Chicago in 1841.
Newberry died enroute to Europe in 1868. In his will, he left about half of his estate towards the foundation of a library in Chicago (provided this money did not become inherited to wife or daughters, which it did not). The will stipulated that the library should be located in the North Division, and the Ogden Block was chosen for the site. Philanthropist
The Newberry Library
The Newberry Library is "an independent research library dedicated to the advancement and dissemination of knowledge, especially in the humanities. The Newberry Library acquires and preserves a broad array of special collections research materials relating to the civilizations of Europe and the Americas, [and] ... promotes and provides for their effective use, fostering research, teaching, publication, and life-long learning, as well as civic engagement. In service to its diverse community, the Newberry encourages intellectual pursuit in an atmosphere of free inquiry and sustains the highest standards of collection preservation, bibliographic access, and reader services." Especially noteworthy for railroad historians is that the Newberry Houses the papers of the Chicago, Burlington, & Quincy Railroad.
Notes
Sources
The bulk of Newberry's papers were destroyed in the Chicago Fire of 1871.
"Newberry, Oliver." Appletons' Cyclopædia of American Biography. 1900.
NOTE: Walter Loomis Newberry shares this heading with his brother.
The Newberry Library, "History," last accessed May 21, 2014.
Links
Newberry Library, "Inventory of the Chicago, Burlington, & Quincy Railroad Company Records, 1820-1999."
Wikipedia (shares page with brother)—WP page plagiarizes Appletons Encyclopedia.
Citation: When referencing this page please use the following citation:
R. D. Jones, "Walter Loomis Newberry," Michigan Transportation History (Ypsilanti, MI: 2020), www.michtranshist.info/.
Unless otherwise noted all content on the Michigan Transportation History site is Copyright © 2020.
Page last modified on January 01, 2020, at 09:04 PM EST